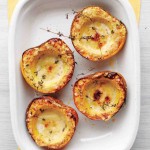 Prep Time: 5 mins minutes
Cook Time: 1 hour minutes
Print
Creamy Baked Acorn Squash
This elegant side dish needs almost no prep. Just pop the squash in the oven, then make the rest of the meal.
Ingredients
Instructions
Preheat oven to 375 degrees. Place squash halves cut side up on a rimmed baking sheet and season with salt and pepper. Divide cream and thyme among halves.

Bake until squash is tender when pierced with the tip of a sharp knife, 35 to 40 minutes. Sprinkle with Parmesan and bake until cheese is melted and golden, 10 to 15 minutes more.
Recipe via: Martha Stewart
Add to Favourites