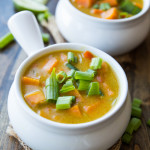 Yield: 5 servings
Prep Time: 15 minutes
Cook Time: 20 minutes
Print
Coconut Curry Sweet Potato Chowder
Instructions
Melt the coconut oil in a large soup pot. Add the garlic and cook for 30 seconds. Add the sliced green onion (the white and light green portions) and 1/4 teaspoon salt, and cook for 3-4 minutes, until softened. Pour in the remaining vegetables, and cook, stirring frequently, for 10 minutes
Pour in the coconut milk, Thai curry paste, remaining salt to taste, and lime juice. Pour in the water, reserving a few tablespoons. Whisk the flour into the remaining water, and pour into the soup pot.
Bring to a boil, reduce heat to low, cover, and simmer for 20 minutes.
Top with he remaining sliced green onions (the dark green tops).
Add to Favourites